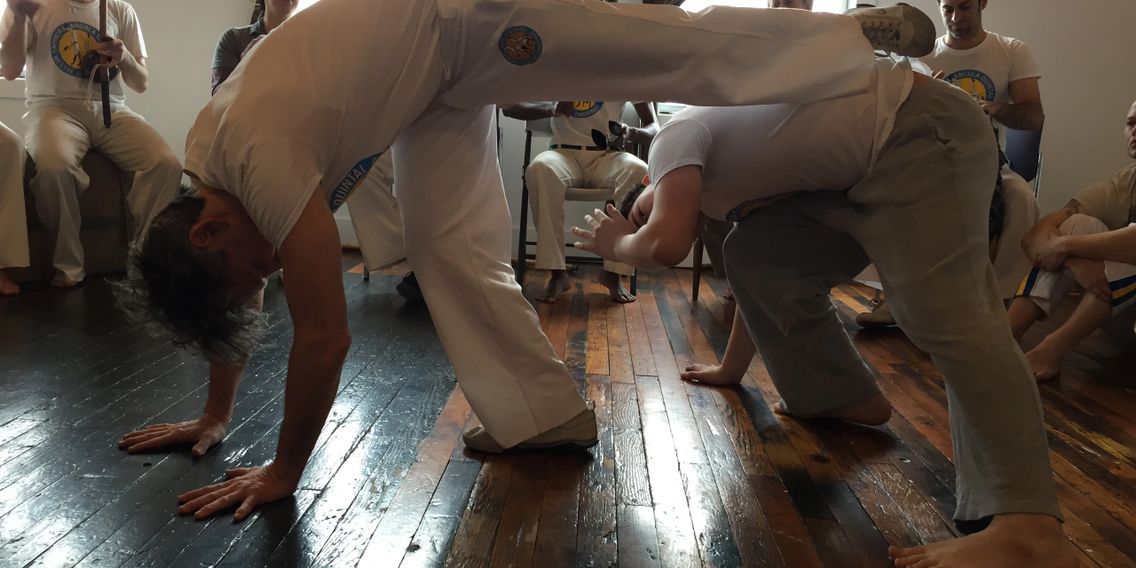 What is Capoeira?
Capoeira is an Afro-Brazilian martial art, created by slaves and hidden through dance and music. Capoeira is played as a game between two practitioners inside of a circle of spectators, other capoeira players, and a band of musicians.

This beautiful and strong martial art came to be in the mid 1500s, when slaves were torn from Africa and shipped the newly discovered Americas. Under the watchful eye of the slave owner, capoeira appeared as a harmless dance and music. After the abolition of slavery in 1888, capoeira survived in the poorer neighborhoods (despite persecution from police) until it's legalization in the 1930s.

Today, capoeira is celebrated and practiced around the world.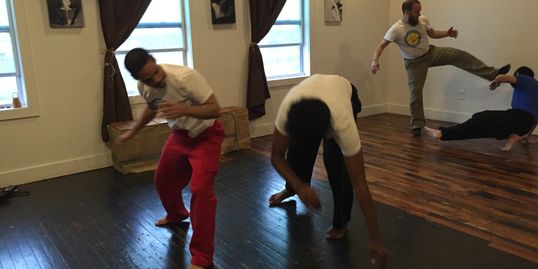 Classes
Movements, music, and Brazilian culture make capoeira classes unique and challenging. There is grace, beauty, risk, reward, and danger. Capoeira can be played by everyone; the strong and the weak, the young and the old, the blind and the deaf.

Capoeira is for everyone. Join us for one of our adult classes, Mondays and Thursdays from 7-8:30pm at our studio (34 Elton Street #304, Rochester).

Our Teachers
INSTRUTOR ESPIÃO:
Instrutor Espião is the lead capoeira instructor at the Capoeira Angola Quintal Rochester studio.

CONTRA-MESTRE GRAVETO:
Contra-Mestre Graveto has studied and trained under Mestre Ombrinho, Mestre Nô, Contra-Mestre Perere and several others for over 15 years and continues to honor them and their teachings by overseeing several satellite groups in different states. He has dedicated himself to the continuation of Capoeira Angola and it enriching the lives of all those it touches and speaks to.

MESTRE OMBRINHO:
Mestre Ombrinho (Michael Goldstein) began studying Capoeira in 1981. In 1987, he became a disciple of Grand Master Norival Moreira de Oliveira, Mestre Nô of Bahia and joined Capoeira Angola Palmares. Ombrinho became a master in 1996 under Mestre Nô. He has been teaching in New York since 1988. He has graduated many fine practitioners and instructors, both men and women. Today he has many amazing teachers across the country in New York, Massachusetts, Pennsylvania, North Carolina, and California.